Inflammatory bowel disease(IBD)
Definition:

Irritable bowel syndrome (IBS) is a common problem with the intestines. In people with IBS, the intestines squeeze too hard or not hard enough and cause food to move too quickly or too slowly through the intestines. IBS usually begins around age 20 and is more common in women.

IBS is also called functional bowel syndrome, irritable colon, spastic bowel and spastic colon. It's not the same as inflammatory bowel diseases like ulcerative colitis.
IRRITABLE Bowel Syndrome (IBS) is a common disorder of the intestines that leads to cramps, bloating, and changes in bowel habits. Some people with IBS have constipation while others have diarrhea and experience both intermittently. The cause of IBS is not known. Doctors call it a functional disorder because there is no sign of disease when the colon is examined. IBS causes a great deal of discomfort and distress, but it does not cause permanent harm to the intestines and does not lead to intestinal bleeding of the bowel or to a serious disease such as cancer. Other IBS is just a mild annoyance, but for some people it can be a disabling. The colon (part of large intestine), which is about 6 feet long, connects the small intestine with the rectum and anus. The major function of the colon is to absorb water and salts from digestive products that enter from the small intestine. Two quarts of liquid matter enter the colon from the small intestine each day. This material may remain there for several days until sorbed into the body. The stool then passes through the colon by a pattern of movements to the left side of colon where it is stored until a I bowel movement occurs.
Movements of the colon propel the contents , slowly back and forth but mainly towards the rectum. A few times each day, strong muscle contractions move down the colon pushing fecal material ahead of them. Some of these strong contractions result in a bowel movement. Because doctors have been unable to find an organic cause, IBS often has been thought to be caused by an emotional conflict or stress. While stress may worsen IBS symptoms, research suggests that other factors are also important. Researchers have found that the colon muscle of a person with IBS begins to contract after only mild stimulation. The person with IBS has a colon that is more sensitive and reactive than usual, so it responds strongly to stimuli that would not bother most people. It is important to realize that normal bowel function various from person to person. Normal bowel movements range from as many as three stools a day to as few as three a week. A normal movement is one that is formed but not hard, contains no blood, and is passed without craps or pain. People with IBS, on the other hand, usually have abdominal pain with painful constipation or diarrhea. In some people, constipation and diarrhea alternate. Sometimes people with IBS pass mucus with their bowel movements. Bleeding, ever, weight loss, and persistent server pain are not symptoms of IBS but may indicate other problems.
Ordinary events such as eating and distention from gas or other material in the colon can cause the colon to overreact in the person with IBS. Certain medicines and foods may trigger spasms in some people. Chocolate, milk products, or too much alcohol are frequent offenders.
The potential for abnormal function of the colon is always present in people with IBS, but a trigger also must be present to cause symptoms. The most likely culprits seem to be diet and emotional stress. Many people report that their symptoms occur following a meal or when they are under stress.
<![if !supportLists]>· <![endif]>Bloating and gas
<![if !supportLists]>· <![endif]>Mucus in the stool
<![if !supportLists]>· <![endif]>Constipation
<![if !supportLists]>· <![endif]>Diarrhea, especially after eating or first thing in the morning
<![if !supportLists]>· <![endif]>Feeling like you still need to have a bowel movement after you've already had one
<![if !supportLists]>· <![endif]>Feeling a strong urge to have a bowel movement
<![if !supportLists]>· <![endif]>Abdominal pain and cramping that may go away after having a bowel movement
The box to the right lists common symptoms of IBS.

The symptoms may get worse when you're under stress, such as when you travel, attend social events or change your daily routine. Your symptoms may also get worse if you don't eat enough healthy foods or after you've eaten a big meal. Some people are bothered by certain foods. Women who have IBS may notice more frequent symptoms during their menstrual periods
.


• Left-sided colitis. As the name suggests, inflammation extends from the rectum up the left side through the sigmoid and descending colon. Signs and symptoms include bloody diarrhea, abdominal cramping and pain, and weight loss.

• Pancolitis. Affecting the entire colon, pancolitis causes bouts of bloody diarrhea that may be severe, abdominal cramps and pain, fatigue, weight loss and night sweats.

• Fulminant colitis. This rare, life-threatening form of colitis affects the entire colon and causes severe pain, profuse diarrhea and, sometimes, dehydration and shock. People with fulminant colitis are at risk of serious complications including colon rupture and toxic megacolon, which occurs when the colon becomes severely distended.

The course of ulcerative colitis varies, with periods of acute illness often alternating with periods of remission. But over time, the severity of the disease usually remains the same. Only a small percentage of people with a milder condition, such as ulcerative proctitis, go on to develop more severe signs and symptoms.
Causes and Risk Factors
Causes
The exact causes of this disorder are not known. It is believed that miscommunication of messages from the brain to the intestinal tract could cause abnormal muscle contractions or spasms causing cramping pain. These spasms may then cause diarrhea or constipation. Some of the potential causes, triggers or factors that might worsen the symptoms are as follows:
Dietary issues such as food allergies and the amount of fiber consumed.

Neurological hyper-sensitivity

Stress

Hormonal changes i.e., menstrual cycle

Trapped gas which causes bloating

Use of antibiotics

Gastrointestinal infection

Mal-absorption of bile acid

Too little of physical exercise

Chronic alcohol abuse

Abnormalities in gastrointestinal secretions and/or peristalsis (the process of movement along the digestive tract)
Risks
Risk of suffering from IBS is more common among the following:
In people younger than 35 years. About 50% of those suffering from IBS are below 35 years and 40% develop the symptoms between 35 to 50 years.

IBS is 2 to 3 times more common in women than in men

People suffering from panic disorder or other psychological conditions

People having a family history of IBS

People who having a history of physical or sexual abuse or other psychological trauma.

People with other conditions such as chronic fatigue syndrome (which causes severe fatigue), fibromyalgia (which causes widespread muscle and soft-tissue pain and tenderness), and temporomandibular disorder (which causes pain and discomfort in the jaw muscles and joint)
Symptoms
The most common symptoms of IBS are as follows:
1. Altered bowel movements/habits: Some people with IBS have constipation (difficult or infrequent bowel movements, hard stools); others have diarrhea (frequent loose stools, often with an urgent need to move the bowels); and some people experience both, for example several weeks of constipation followed by a few days of diarrhea. The diarrhea typically occurs immediately after a meal or when getting up in the morning. Sometimes people with IBS pass mucus with their bowel movements.
2. Abdominal pain and cramps: The abdominal discomfort of an irritable bowel ranges from sharp, cramp to a continuous, dull ache. Common sites of pain include the lower abdomen, specifically the left lower quadrant. Meals may precipitate pain while pain is commonly relieved by defecation.
3. Gas formation, bloating, abdominal distention: Patients frequently report increased amounts of bloating and gas and distended feeling.
4. Urgency: Sometimes the person with IBS has a cramp and an urge to move the bowels but cannot do so.
5. Sensation of incomplete evacuation: The patient feels like he still needs to have a bowel movement after he has already had one.(incomplete evacuation)
6. Extra-colonial symptoms: In addition, a number of other symptoms not directly related to bowel may be present in patients with IBS. These include: nausea (with or without vomiting), feeling full after eating only a small meal, difficulty swallowing, a sensation of a lump in the throat or a closing of the throat, heartburn or acid indigestion, chest pain, sensation of urinary urgency, incomplete emptying after urinating, fatigue and generalized body ache or muscular pains, and pain during sexual intercourse.
What are the complications of IBS?
The complications of functional diseases of the gastrointestinal tract are relatively limited. Since symptoms are most often provoked by eating, patients who alter their diets and reduce their intake of calories may lose weight. Fortunately, loss of weight is unusual in functional diseases, and it should suggest the presence of a non-functional disease. Symptoms that awaken patients from sleep also are more likely to be due to non-functional than functional diseases.
Most commonly, functional diseases interfere with the patients' comfort and their daily activities. For example, patients who suffer from morning diarrhea may not leave their home until the diarrhea stops. If the diarrhea is constant, they may go only to places where they know that a toilet is readily available. Patients who develop pain after eating may skip lunch. Very commonly, patients associate symptoms with specific foods, such as milk, fat, vegetables, etc. Whether or not these associations are real, these patients will restrict their diets accordingly. Milk is the food that is most commonly eliminated, often unnecessarily and to the detriment of adequate calcium intake. The interference with daily activities also can lead to problems with interpersonal relationships, especially with spouses. However, most patients with functional disease tend to just live with their symptoms and infrequently visit physicians for diagnosis and treatment.
Diet and Nutrition
Malnutrition may occur in ulcerative colitis, although it tends to be less severe than with Crohns disease. Patients with ulcerative colitis may experience reduced appetite and weight loss.
Patients should strive to eat a well-balanced healthy diet and focus on getting enough calories, protein, and essential nutrients from a variety of food groups. These include protein sources such as meat, chicken, fish or soy; dairy products such as milk, yogurt, and cheese (if the patient is not lactose-intolerant); and fruits and vegetables.
Depending on your nutritional status, your doctor may recommend that you take a multivitamin or iron supplement. Other types of dietary supplements, such as probiotics (healthy bacteria like lactobacilli), are being investigated for ulcerative colitis, Studies suggest that probiotics do not help much for remission, but they may have modest effects for reducing disease activity and improving symptoms in people with mild-to-moderate ulcerative colitis.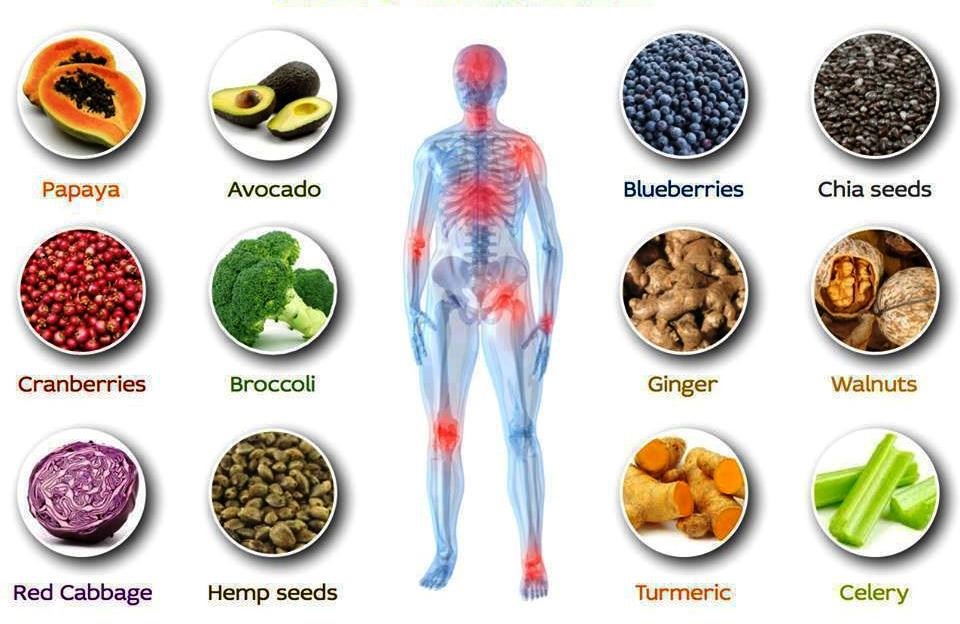 Certain types of foods may worsen diarrhea and gas symptoms, especially during times of active disease. While people vary in their individual sensitivity to foods, general guidelines for dietary management during active disease include:
<![if !supportLists]>· <![endif]>Eat small amounts of food throughout the day.
<![if !supportLists]>· <![endif]>Stay hydrated by drinking lots of water (frequent consumption of small amounts throughout the day).
<![if !supportLists]>· <![endif]>Eat soft, bland foods and avoid spicy foods.
<![if !supportLists]>· <![endif]>Avoid high-fiber foods (bran, beans, nuts, seeds, and popcorn).
<![if !supportLists]>· <![endif]>Avoid fatty greasy or fried foods and sauces (butter, margarine, and heavy cream).
<![if !supportLists]>· <![endif]>Limit milk products if you are lactose intolerant (or consider taking a lactase supplement to improve tolerance). Otherwise, dairy products are a good source of protein and calcium.
<![if !supportLists]>· <![endif]>Avoid or limit alcohol and caffeine consumption.
Why may fiber be helpful?
Fiber can be helpful because it improves how the intestines work. There are 2 types of fiber:
Soluble fiber

helps both diarrhea and constipation. It dissolves in water and forms a gel-like material. Many foods contain soluble fiber such as apples, beans and citrus fruits. Psyllium, a natural vegetable fiber, is a also a soluble fiber. You can buy psyllium supplements (some brand names: Fiberall, Metamucil, Perdiem) to drink and you can add it to other foods.

Insoluble fiber

helps constipation by moving material through your digestive system and adding bulk to your stool. Insoluble fiber is in whole grain breads, wheat bran and many vegetables.
Increase the fiber in your diet slowly. Some people feel bloated and have gas if they increase their fiber intake too quickly. Gas and bloating usually improve as you get used to eating more fiber. The best way to increase your fiber intake is eat a wide variety of high fiber foods. For more information, read the handout, "Fiber: How to Increase the Amount in Your Diet."
Barium Enema X-Ray
Sigmoidoscopy and colonoscopy are standard tests for diagnosing ulcerative colitis, but in some cases the doctor may order a double-contrast barium enema Swallowed barium passes into the small intestine and shows up on an x-ray image, which may reveal inflammation and other abnormalities.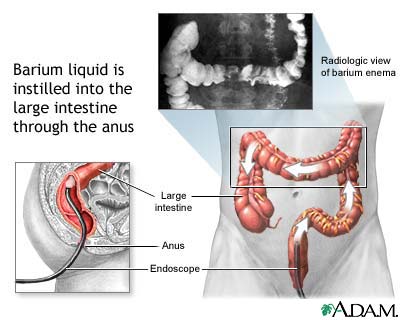 A barium enema is a long-established diagnostic tool that helps detect abnormalities in the large intestine (colon). A barium enema, along with colonoscopy, remains useful in the diagnosis of colon cancer, ulcerative colitis, and other diseases of the colon, but endoscopy is more accurate and informative.
How can stress affect IBS?
Stress may trigger symptoms in people with IBS. Talk to your family doctor about ways to deal with stress, such as exercise, relaxation training or meditation. He or she may have some suggestions or may refer you to someone who can give you some ideas. Your doctor may also suggest that you talk to a counselor about things that are bothering you.
Will IBS get worse over time?
No. While IBS will probably recur throughout your life, it won't get worse. It doesn't cause cancer or require surgery, and it won't shorten your life.
What if IBS interferes with my daily activities?
IBS may have caused you to avoid doing certain things, like going out or going to work or school. While it may take some time for your efforts to pay off, you may find new freedom by following a plan that includes a healthy diet, learning new ways to deal with your stress and avoiding foods that may make your symptoms worse.
Tips on controlling IBS
<![if !supportLists]>· <![endif]>Eat a varied healthy diet and avoid foods high in fat.
<![if !supportLists]>· <![endif]>Drink plenty of water.
<![if !supportLists]>· <![endif]>Try eating 6 small meals a day rather than 3 larger ones.
<![if !supportLists]>· <![endif]>Learn new and better ways to deal with your stress otherwise homoeopathic medicine provide you support in managing stress.
<![if !supportLists]>· <![endif]>Avoid using laxatives. They may weaken your intestines and cause you to be dependent on them.
Homeopathic treatment:
The homeopathic treatment for Irritable bowel syndrome (IBS) on the concept of immuno-correction, using medicines which are supposed to correct the immune mechanism which is responsible for the formation of ulcerations in the colon. Homeopathy aims at immuno-modulation using the medicines which are also capable of addressing the genetic predisposition, helping the disease process at a deeper level.

The duration of treatment:
The total length of treatment varies form case to case, depending of the following factors:
Duration of Irritable bowel syndrome (IBS)

Extent of Irritable bowel syndrome (IBS)

Previous or current medication such as cortisone or other immunosuppressive medicines.

General health and associated diseases
One may expect a definite improvement in about four months. The total length of medication may be
anything between six months to two years or longer, depending on various parameters. Tapering of the conventional treatment can be achieved over the period of time, in coordination with a local gastroenterologist.
Why homeopathy for Irritable bowel syndrome (IBS)?
The major benefits of homeopathy could be summarized as under:
· It offers excellent treatment which has a success rate of over 70%
· It offers immuno-correction hence gives deep-level healing
· It offers long-lasting cure instead of temporary relief.
· It helps to reduce (and eventually stop) need for cortisone and other medicines
· It is absolutely harmless, safe and non-toxic.
· It helps arrest further progress of disease and hence deterioration caused by disease.
· If administered in early stage it prevents complications like joint swelling, skin and eye complication, and even chances of colon cancer.
· It is possible to avoid surgery with timely administered homoeopathy medicines for ulcerative colitis.
· It significantly helps to reduce the relapse and recurrence of condition. It treats the disease from root and not merely superficially.